Christian Community Supports Pastor Tony Evans' Family After Recent Death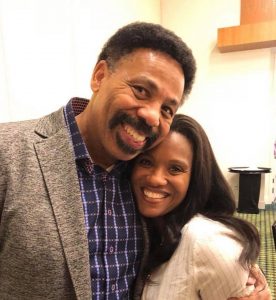 screengrab
Christian leaders are offering prayers and support to the family of Wynter Pitts, the 38-year-old niece of renowned Pastor Tony Evans who passed away unexpectedly last night.
Evans, the senior pastor of Oak Cliff Bible Fellowship in Dallas, Texas, revealed the shocking news on Twitter Wednesday.
"My niece Wynter Evans Pitts (@forgirlslikeyou) unexpectedly passed away last night. A beautiful mother of four girls and a devoted wife, Wynter loved her family with a deep commitment," he wrote. "Please keep her husband Jonathan her four young daughters and our entire family in your prayers."
Wynter's teen daughter and War Room actress Ariel Pitts wrote a transparent message on Instagram Wednesday, sharing a multitude of feelings with the world. Even while mourning her mother's passing, Ariel spoke about finding joy during the tough times. Still, she asked people for prayers to Wynter's family overcome their pain.
"…Even as I weep and grieve, I can smile with joy because I'll see her again. Even now she's been throwing little winks at me," Ariel wrote. "Please be praying for my family as my three younger sisters and I have lost our mommy and my dad has lost his best friend."
Priscilla Shirer honored her cousin with an image on social media, while Shirer's brother and gospel singer Anthony Evans made a vow to be a vital part of Wynter's immediate family's life.
"The one thing I can think clearly enough to say is that I promise you that I will forever be there for your husband and I'll be the best uncle to my four perfect nieces," he wrote on Instagram. "I don't understand God at times and don't know how I'll recover from this one but I'm going to try. I love you forever Wynt."
A number of people in the Christian community showed their support for the family on social media.
Preacher Christine Caine said she was "heartbroken" while Heather Lindsey echoed similar sentiments and said she would be praying for the family. Singer Natalie Grant also offered her prayers saying that she is "believing that every word Jesus says is true."
Christian actress Candace Cameron Bure admitted that she did not know what to say to the family, but told them to "Be Brave. God is holding you all in his hand."
Wynter left her mark on the kingdom of God by writing devotionals and books for young girls. She created a magazine called For Girls Like You to inspire young girls with Christ centered content.
The family of Wynter Pitts will honor her life on Saturday at The Oaks Church main sanctuary in Red Oak, Texas.