Car Crash In Front Of Bronx Church Being Called A Miracle By Witnesses
by Dean Windsor | 10:02 am, June 24th, 2019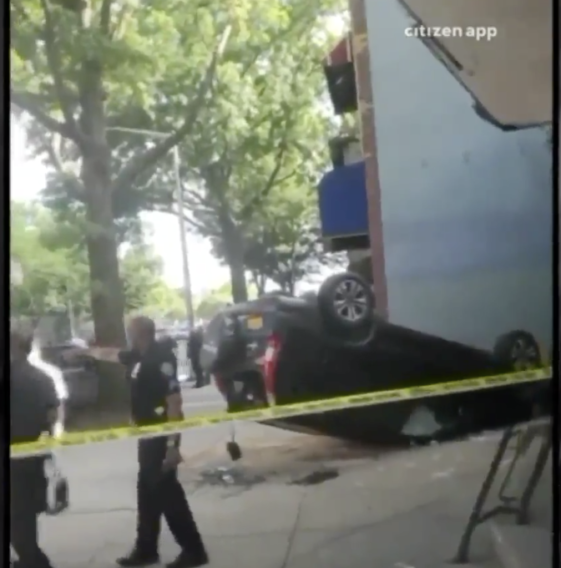 On a busy Friday afternoon in the Bronx, members of the Friendship Community Church were shocked by the sound of screeching tires, twisting metal, and screams from pedestrians.
WPIX 11 reports that around 4:30 pm a compact SUV traveling south on Southern Boulevard jumped the curb, flipped over and crashed into the church's guard rail sending everyone in the area into an immediate panic.
Inside the vehicle were an 11-year-old boy and two adults, including the driver. WPIX 11 also reports that six pedestrians were hurt, including a two-year-old boy, three women, and two men.
Hearing the chaos from the steps of their church, a deacon and his wife rushed outside to see what was happening. They quickly began to pray upon seeing the injured people on the sidewalk. 
"It was by the grace of God that it happened here, right by the wooden cross, and there was no loss of life," Kenneth Goodson, the church's deacon, told PIX11 News.
"It was a miracle where it happened," Katrina Goodson, the deacon's wife added.
"There were actually two miracles," church member Maurice Jones told PIX11 News. "There is usually a tent filled with people and the second miracle is that the van hit the guardrail. Otherwise, it would have gone into the church."
This could have been a severely tragic story, but the fact that there were no fatalities and Church members quickly sprang into action notifying first responders, absolutely has the makings of a miracle.
The current status and extent of injuries of everyone involved in the accident is still unclear, but none of the injuries are life-threatening.
This is a developing story, and you can check back for any updates.
You can reach out to Friendship Community Church on their Facebook page to show love and find out how you may support the victims. You can also pray for the people involved in this unexpected tragedy; that they may have a speedy and painless recovery.

(Photos via screengrab)