BREAKING: Historic Notre Dame Cathedral in Paris Destroyed by Fire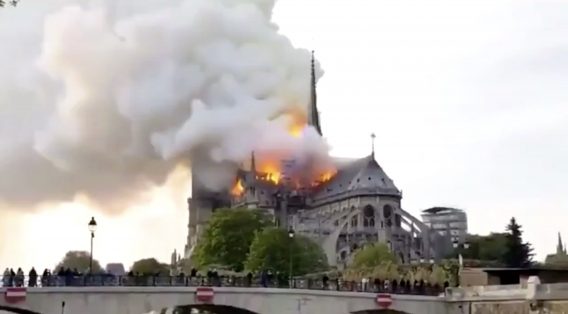 The historic Notre Dame Cathedral in Paris is currently burning after a fire broke out Monday afternoon. 
Firefighters are on the scene fighting the blaze, which broke out during Holy Week, but they are limited in how they can combat the fire.
The religious structure has been evacuated, and bystanders have been tweeting videos of the flames as it engulfs the Gothic structure. Flames can be seen reaching several feet in the air and completely consuming the roof and steeple of the cathedral.
Notre Dame Cathedral ablaze in Paris.

Can't imagine how much damage this will do to such a beautiful, historic cathedral.

— The Hoarse Whisperer (@HoarseWisperer) April 15, 2019
Here's the live video of Notre Dame Cathedral on fire: https://t.co/BUeIaW7Cdj

— Caleb Hull (@CalebJHull) April 15, 2019
#Paris: Police in Paris have confirmed a fire at the Notre Dame Cathedral.
pic.twitter.com/B0IWMFgoI5

— I.E.N. (@BreakingIEN) April 15, 2019
The cause of the fire is unknown, but the building was undergoing a major operation to make needed repairs.  
Last year the cathedral requested donations to repair the then 850-year-old structure because it was crumbling due to pollution eating the stone, causing some to fear that the building would become be unstable.
****update 5:23****
French official says despite the devastation of the fire, Notre Dame's two iconic towers have been saved, and are expected to remain secure. Earlier, the spiral on top of the cathedral collapsed during the fire.
The moment #NotreDame's spire fell pic.twitter.com/XUcr6Iob0b

— Patrick Galey (@patrickgaley) April 15, 2019
The official also reported that one firefighter has been seriously injured while battling the blaze.
This is a developing story
(Photo: via screengrab)