Christian and Gospel Artists Join Kirk Franklin in Dove Award Boycott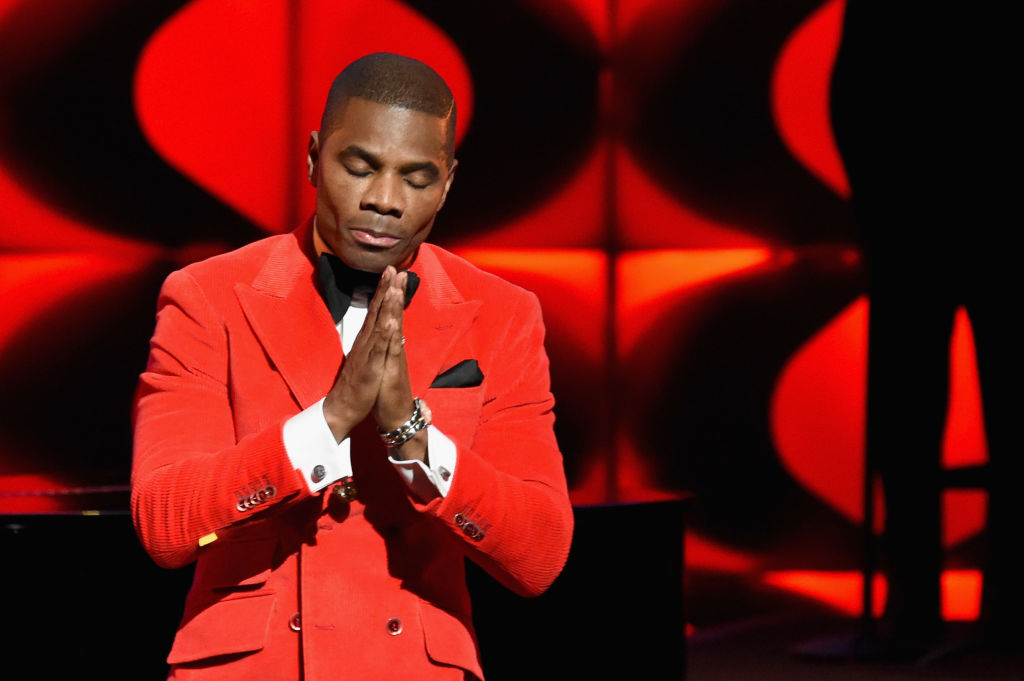 Monday night multi-Grammy award-winning gospel artist Kirk Franklin posted a video on Instagram that has made waves in the Contemporary Christian Music and Gospel music industry.
"Today, I feel like quitting. I am heartbroken that I even have to share this with you," a somber Franklin said to his followers.
The multi-platinum songwriter expressed his hurt and disappointment that portions of his acceptance speech at the Dove Awards that addressed the police shooting of Atatiana Jefferson, were edited out of the show that aired on TBN. Franklin made similar comments in his 2016 acceptance speech and they too were edited out of the show that TBN broadcasted.
As a result of Franklin announced tha the was going to boycott the Gospel Music Association, the Dove Awards and TBN (Trinity Broadcasting Network), which was not a decision he took lightly.
"So now, after a meeting with the Dove Awards committee and representatives of TBN, I've made the decision after prayer, consultation with my team and my pastor, Dr. Tony Evans, to not attend any events affiliated with or for the Dove Awards, Gospel Music Association, and TBN until tangible plans are put in place to protect and champion diversity," said the gospel legend.
Boycotting was not Franklin's first recourse. Back in 2016 when his acceptance speech commenting on the shooting of Philando Castile and others was edited out of the show, he reached out to both the Dove Awards and TBN about his disappointment in their editing choice. Franklin stated that TBN never responded, but the Dove Awards apologized and "promised to rectify the mistake so that it wouldn't happen again."
But, as Franklin stated, "In 2019 history repeated itself." Although the Dove Awards has again apologized to him and made his unedited speech available as a VOD, he is asking for more than words.
For Franklin, ensuring diversity is necessary when considering that it is the support from people of color that allows these institutions to be viable.
"…People of color have contributed their gifts, talents, and finances to help build the viability of these institutions," Franklin said.
Other artists and influencers, both Christian and secular, are expressing their support of Franklin in his boycott and joining him.
"You know the rules of church: we don't let nobody shout by themselves. #Present," gospel artist Jonathan McReynolds wrote.
"I only came cause you came. You know I'm out," commented Christian hip-hop artist Lecrae under Franklin's post.
"Thank you for leading the way! We stand with you!" Gospel singer Nelson Jonathan wrote.
"KIRKKKKKKKKK!!!! Yessir. THIS is powerful and a testament to how anyone with a platform-but especially someone who fears God-can use it to move forward to justice, not just order," wrote Brittany Packnett Cunningham, the co-founder of Black Lives Matter. "Many of us in the activism community who are also Christian are asked where those in our religious culture stand-because too many are silent. Thank you for speaking up with consistency & not letting silence win."
CCM giant Natalie Grant also wrote words of support to Franklin.
"Love and respect you so much. Thank you for using your platform to speak truth in love, and always with a spirit of humility. You're consistently calling us towards unity."
(Photo by Rick Diamond/Getty Images for BET)