Here's What You Need To Know About John Gray's Visit To The White House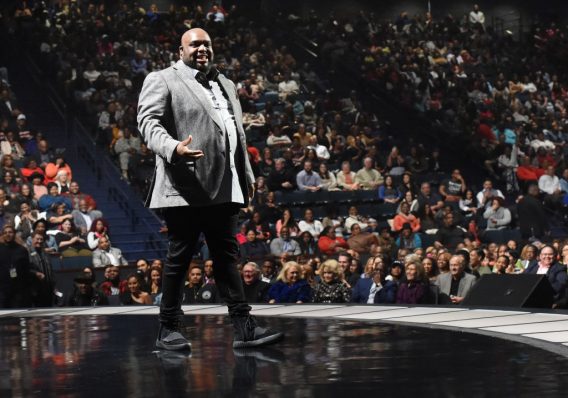 By now, you've probably heard that a number of pastors met with the president at The White House on Wednesday.
Pastor John Gray became a large part of that narrative as one of the most prominent voices to connect with young adult believers, which is evident by his 689,500 Instagram followers, his hit reality television show on OWN network and the opportunities he has been given to be a spiritual guide for celebrities like the athletes on the Golden State Warriors.
However, Gray's decision to take part in the meeting resulted in a great deal of backlash on social media causing his wife Aventer Gray and friend Pastor Jamal Bryant to speak out. If the entire ordeal has been a lot to keep up with, Ambo TV has got you covered with everything you need to know about what took place with Pastor John Gray during his White House visit and the events that followed after.
Who Were The Pastors At The Meeting?
The White House released a transcript of the president's "meeting with inner city pastors" on Wednesday. Among those who shared their thoughts with the president were Pastor John Gray, senior pastor of Relentless Church in Greenville, S.C., Pastor Darrell Scott, Pastor Paula White from the Destiny Christian Center in Apopka, Fla., Bishop Harry Jackson, Dr. Alveda King, Reverend Wilfredo De Jesús from the New Life Covenant Church in Chicago, Van Moody from the Worship Center in Birmingham, Alabama, Kyle Searcy from Montgomery, Ala, Phillip Goudeaux from Sacramento, Calif., Travis Hayes, the CFO of Relentless Church in Greenville, S.C., Pastor Julian Lowe from Oasis Church in Los Angeles, Calif., Benny Perez from Las Vegas, Nev., Bishop Kelvin L. Cobaris, the Impact Church of Orlando, Fla., Sharon Nesbitt, senior pastor of Dominion Church in Marion, Ark., Bishop Darrell Hines who pastors the Christian Faith Fellowship Church of God in Christ in Milwaukee, Wis., Bill Owens, founder and the president of the Coalition of African American Pastors, Pastor Mike Freeman from the Spirit of Faith Christian Center in Maryland, Bishop Dale Bronner from Atlanta, the senior pastor and founder of Word of Faith Family Worship Cathedral and Bishop Harry Jackson from the D.C. area.
The preachers in the room that came together from all across the country engaged in a discussion about the issues they felt were impacting their communities like criminal justice reform.
What Exactly Did John Gray Say At The Meeting?
At the beginning of the meeting, the president asked if Gray could lead everybody in prayer.
"..Dr. King said we cannot influence a table that we are not seated at.  And so we pray that this conversation will be fruitful, and productive, and honoring of the best traditions of this nation," he prayed, according to the White House transcripts. "We further pray that you will continue to give wisdom and insight to our President and his leadership team to be what our nation needs, to build this country from the inside out, that we will continue to be a beacon of hope and light around this world.Bless his family, bless his health, and everything that he puts his hands to do…"
Before ending the prayer in Jesus' name, Gray prayed that everybody's time together at the meeting would be blessed. Later in the meeting, each pastor was given an opportunity to introduce themselves and address the president directly.
Some pastors complimented the president, while others invited him to church. Gray used his time to speak about the importance of fighting for criminal justice reform.
"I believe that the very best principles of scripture call us to fight for the poor, for the oppressed, for those who have made mistakes. Criminal justice reform is an opportunity to give a second and third chance to those who want to become productive members of society," he told the president. "Our nation cannot forget the broken.  It is in the best tradition of our nation to fight for them."
He reminded people about the history of the church's involvement in helping those in need.
"And when I think about the history of the church in this country, we have always fought for those who could not fight for themselves," Gray said. "So when I think of those who are coming out of prison who want to contribute, this is critical."
John Gray Is Facing Backlash
If you take one look at Gray's Instagram comments, you're sure to see a slew of comments criticizing the pastor for meeting with the president. Some accused him of selling his soul while others expressed their disappointment in his meeting with a president who they feel is racist and only wanted a photo opportunity from the preacher.
Pastor Jamal Bryant, a friend of Gray who leads the Empowerment Temple AME Church in Baltimore, Md., took to Periscope to rebuke the pastors for taking a meeting with the president.
"Preachers, when you all went around that table, and after you stopped uncle tomming, and thanking him for the privilege to be there, did any of you ask him how it is that he has separated brown and black children and put them in cages like pit bulls," he said. "..We are in a dark, dismal and difficult time when basketball players and rappers have more moral authority than preachers.. (God) said, 'I prepare a table for you in the presence of my enemies' All these preachers that went. God provided the  table and you just walked away with a photo op. And you walked away with nothing."
Gray admitted that his wife Aventer cautioned him about going to the meeting that would not be received well by the general public.
"'If you go, no one will hear what you say. They won't understand why you're there,'" he quoted her as saying on Instagram. "'And any good that could come out of it will get lost in translation.' Wise words from a loving, discerning wife."
Amidst all of the backlash, the pastor said he understood why so many people were upset.
"The pain of those who have been hurt is real," he wrote.  "And I would be a dishonorable man not to acknowledge that."
Gray spoke to CNN's Don Lemon on Thursday evening and explained that he knew people in the black Christian community would be upset by his meeting with the president. The pastor said that he did not want pictures taken at the meeting because he did not want it to become a photo opportunity that would do nothing more than anger people in his community.
"When I first heard about this and was invited I actually said, 'I don't want to take pictures. I will go, I will listen, I will give my input, but I don't want to be photographed,'" he revealed on CNN Thursday. "That was because I understood certain parts of our community. The faith based community and the African American community and rightfully so have felt immeasurable pain."
Here's Why He Did It
In his own words, Gray admitted that he took the meeting with the president after praying about the matter.
"I asked the Lord when I was asked to be present in this initial meeting about potential prison reform-that could greatly end up benefiting many people who look just like me-Lord, Do you want me in that room," he revealed. "My first mind was no. The pain of so many is too real."
Gray admitted to feelings of hurt, isolation, and a sense of disenfranchisement from the country's current leadership. Still, he prayed again and couldn't shake what God told him to do.
"I did the one thing I can't shake: I prayed again and asked God," he wrote. "Do you want me in that room? My attendance gives the answer."
Update: The Result Of Trump's Meeting With Pastors
According to The Hill  reports on Friday, the president has agreed to discuss a new proposal on prison sentencing reform after meeting with Gray and other pastors Wednesday.
"A senior White House official described the president as 'positively inclined' toward the compromise proposal,'" The Hill reports.
Gray posted the website's headline on his Instagram, page and revealed that he had been praying for this outcome.
"The purpose I went for," he wrote. "The result I prayed for."