Watch It!: You Are What You Eat pt 3
by Candice Coates | 1:22 pm, January 2nd, 2019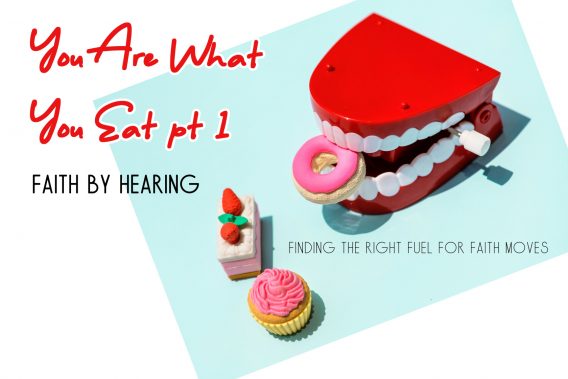 "Watch and pray, lest you enter into temptation. The spirit indeed is willing, but the flesh is weak." ~ MATTHEW 26:41
Eating is more than just the substance that we take in with our mouths. In all actuality, if you haven't learned this truth yet, we eat with all of our senses.
The first thing that we are drawn by is our sense of smell. Something lets us know, or leads us to believe that is good by the way it smells. It lures us, and like a fish on a hook, we follow the draw until our eyes take hold of what tempted us. At this point, we are left with a decision, to consume or not to consume.
The first thought that comes to my mind is that of State Fair food or Carnival food. Let's all be honest, there really is nothing good about all that deep fried greasy goodness, but our noses tell us otherwise and our eyes, more often than not come in agreement with the lie…heartburn and other ailments later, we are left with the truth that things are not always as good as they seem.
WE EAT WITH OUR EYES
In our growth, not only as Creatives, but especially, Creatives in Christ we have to be cognizant of what we set before our eyes. If we allow the wrong things to enter into our eye-gates we will without a doubt, end up bearing the wrong fruit.
In the simplest of examples, a child will watch and study the actions of an adult only to mimic their behavior.
We as adults tend to not shed this behavior even though we would like to believe that we have. You've heard the cliche, "Keeping up with the Jones' " One will only find themselves in competition when they are watching the world of others on an empty stomach.
If you are not filled with the truth and vision that the Lord has set for your life and the place in the process that you are standing, you run a great risk of comparing your progress with that of others.
WATCH AND PRAY
"And take heed to yourselves, lest at any time your hearts be overcharged with surfeiting, and drunkenness, and cares of this life, and so that day come upon you unawares." ~LUKE 21:34
Other translations say, 'Watch and pray," in place of "…take heed to yourselves." Still, the truth remains the same. We need to pay attention to what we allow to have our attention.
Setting a standard for what we watch, and who we watch or follow is not a matter of being legalistic, but a principle of wisdom.
Sorrowful things will fill us with sorrow, the same way that joyous things fill us with joy.
The Lord tells us to watch and pray. What this means is to be mindful of the vision and the call at hand and pray to that end, pray to remain steadfast. Everything in today's world seems to be vying for attention.
Whatever holds most of your attention is what will be able to take root and thusly bear fruit.
WHAT OR WHO ARE YOU WATCHING?
"Looking unto Jesus the author and finisher of our faith; who for the joy that was set before him endured the cross, despising the shame, and is set down at the right hand of the throne of God." ~ HEBREWS 12:2
"Brethren, I do not count myself to have apprehended; but one thing I do, forgetting those things which are behind and reaching forward to those things which are ahead, I press toward the goal for the prize of the upward call of God in Christ Jesus."~ PHILIPPIANS 3:13-14
Our aim is to keep our eyes on Christ and the goal that He has set ahead of us. The path that He has for you is as uniquely designed for you as each snowflake that falls from the Heavens.
You will never reach your prize by keeping your eyes on anyone else. You will never reach your prize by looking backward. You will never reach your prize by watching those who have a semblance of success but no integrity (PSALM 37, PSALM 1)
Keep your eyes on the Sheppard and stick to the path He has for you. There you will find success. There you will grow into all that He has called and purposed you to be. But it will only happen if you keep watch of Him.
~Dream. Imagine. Believe. Do. CONQUER!
Candice Coates is an author, blogger, and contributor to Ambo TV.  This article originally appeared on her website www.icameforthesoup.com.