Steve Harvey Lives By Biblical Principle Of Writing Out His Vision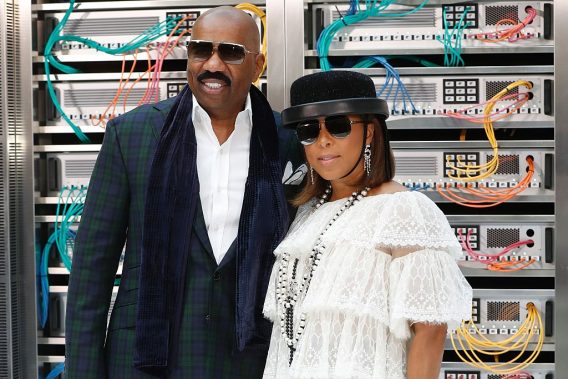 As a host of multiple television shows, bestselling author and entrepreneur Steve Harvey says he went from being a standup comedian to a mogul with the help of one Biblical principle.
While communicating with the audience on the set of the "Family Feud" game show that he hosts, Harvey suggested that people start creating vision boards to watch their dreams come true."Let me explain something to you.
If you do not have it written down, your chances of it happening is reduced drastically, because it's a principle of success," he said in a clip of the show recently posted on Twitter. "You have to have everything you want written. It's in the Bible."
Harvey recited the scripture Habakkuk 2:2-3 which states, "And the Lord answered me: 'Write the vision; make it plain on tablets, so he may run who reads it. For still the vision awaits its appointed time; it hastens to the end—it will not lie. If it seems slow, wait for it; it will surely come; it will not delay." (ESV)
He assured people that there is truth found in the scripture based on his own success applying its principles.
The bible says to "write your vision and make it plain". If you're not using a vision board to achieve your dreams… start. Watch more #Motivated clips at https://t.co/lpBieLhRSK #Motivation pic.twitter.com/IFiVVYTOnp

— Steve Harvey (@IAmSteveHarvey) January 14, 2019
"Now you ain't got to be the greatest Christian in the world, you still go to get some of these scriptures and apply them. That's in the Bible," he said. "Listen to me, that's real. If you don't think it's real I dare you to try it. Write everything you want on a piece of paper."
He encouraged people to write their desires down and read them every day and night for a year. Harvey pointed out that people like media maven Oprah Winfrey have spoken about the importance of making things like vision boards.
"That ain't no theory I come up with…All successful people have it," he said. "Oprah's on t.v. for 30 years telling people about vision board, it's very real."
According to Harvey, he has seen the impact of writing his vision out over the course of his successful career.
"You have to write it. If it's not written you reduce your chances greatly of it ever occurring," he said. "Everything I've ever gotten in life, I've written."
(Photo: FRANCOIS GUILLOT/AFP/Getty Images)