Brooklyn Bishop Details Community Plans With 'God Fearing' Rapper Tekashi69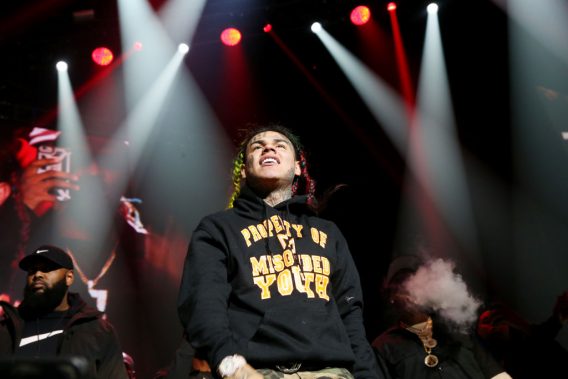 One week after announcing that New York city rap star Tekashi69 has accepted Jesus Christ as his savior, Bishop Lamor M. Whitehead is explaining some of the plans that he and the entertainer have to uplift their community together.
In a video posted to Whitehead's Facebook page Tuesday, the rapper and Bishop who heads the Leaders of Tomorrow Brooklyn Ministry in Brooklyn, N.Y. spoke about their plans for the community.
"What's going on guys you already know the vibes. I'm here with the Bishop, we're going to be doing a lot of charity work in the community," the 22-year-old rapper born Daniel Hernandez said. "We're going to come to these schools. We're going to come to these churches coming soon."
The minister explained that the pair will be giving away turkeys and toys during the holidays along with making pop-up appearances at schools and hospitals. While Tekashi has become known for his internet trolling, rap beefs and promotion of gang banging, the minister insists there is another side that he wants to show the world.
"..We're going to show you who he really is. It doesn't matter what the media portrays him to be, because he's a God-fearing man," Whitehead said. "He has a whole great heart and Jesus loves him. And I always tell y'all he accepted Jesus Christ as his Lord and savior."
In a caption for the video, the minister invited people to inbox him about bringing Tekashi to their school.
"This is ministry!!!! God loves all," he wrote. "If you want the Bishop And @6ix9ine to come to your school inbox the Bishop!! I'm Going To Bring Out Hip Hop!"
Last week, Whitehead live streamed an event on Facebook called "The Peace Conference: 'Stop The Violence'" where he honored Tekashi as his guest for the rapper's work in the community. After the event to end gun violence, the minister revealed that Tekashi gave his life to Christ.
"The New Chapter!! The Bishop And @6ix9ine !! He Came To The Church For Prayer And Gave Is [sic] Life To Jesus!" Whitehead said. "Yes @6ix9ine Accepted Jesus Christ As His Lord And Savior! Let's Celebrate @6ix9ine As We Honor Him !! PEACE CONFERENCE!!! STOP THE VIOLENCE!!"
(Photo by Bennett Raglin/Getty Images for Power 105.1)