6 Preachers Mixing Scripture With Comedy
by Christine Thomasos | 5:39 pm, July 23rd, 2018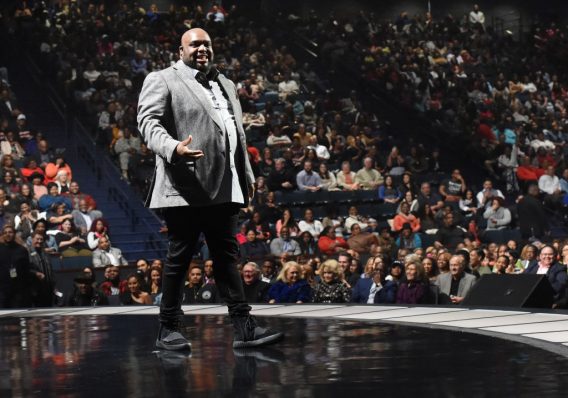 If anybody told you that church has to be boring, they're lying.
All preachers don't deliver their messages in the same manner but some ministers include jokes in their messages that could rival that of your favorite comedians. If you like your Biblical teaching with a side of hilarity, Ambo TV has got you covered with our list of preachers who mix comedy into their messages.
John Gray
When you hear that John Gray once pursued a career in comedy, it should come as no surprise. From his hilarious impersonations, to animated Biblical commentary and musical talents, it is easy to forget that the preacher is delivering a sermon when his audience starts breaking out into fits of laughter.
While the senior pastor of Relentless Church in Greenville, S.C. knows when to get serious about the word of God, those who listen to the pastor know that they can expect to have a good time in the Lord when listening to him preach.
Jeremy Foster
If you don't chuckle when watching Jeremy Foster, there's a good chance that you'll at least crack a smile. The pastor of Hope City Church in Houston, Texas is not afraid of telling embarrassing stories about himself or breaking out into song.
While this pastor is known to translate the word of God with his own comedic colloquialisms, his delivery does not lose focus of the meat of the messages found in scripture.
Real Talk Kim
Real Talk Kim is a high energy preacher who is not afraid to yell at her congregants or tell them to "get litty." The animated preacher whose real name is Kimberly Jones‐Pothier knows how to engage with her audience in a way that has them laughing, shouting, singing and crying within minutes.
When she is not traveling to speak at churches around the world, Real Talk Kim can be found at the Church of the Harvest Fayetteville in Fayetteville, Ga. where she serves as a pastor alongside her husband Pastor Mark Pothier each week.
Sarah Jakes Roberts
Listening to Sarah Jakes Roberts preach is like having a private conversation with a hilarious friend. Roberts is relatable in her delivery and has mastered the art of balancing a healthy dose of humor and exegetical examination of Biblical stories.
The co-pastor and first lady of The Potter's House at OneLA in California and The Potter's House Church of Denver in Colorado has a knack for keeping her audience entertained with a great story. She uses popular colloquialisms like "chile" in her sermons often and has an understated comedic edge that compliments her unique preaching style.
Michael Todd
Michael Todd has a youthful and animated energy that would translate well at most comedy clubs. Since he uses his gifts for the Lord, the preacher mixes his seemingly naturally funny persona with Biblical stories.
The pastor of Transformation Church in Tulsa, Okla. breaks scriptures down in a way that is both relatable and entertaining. While he often pairs funny commentary with scripture, the amount of passion that this preacher speaks with will also keep his audience engaged and listening to his every word.
Chad Veach
Chad Veach takes the gospel seriously, but he has a light hearted approach when spreading the good news to the world. The pastor of Zoe Church in Los Angeles, Calif. expresses himself in a passionate way when teaching the word of God and often takes time to share a laugh with his audience.
While some sermons from Veach lean more heavily on comedy than others, the pastor's naturally humorous personality always manages to shine through his messages.