WATCH: Gospel Artist Darius Paulk Says He Uses Songwriting as His Anti-Drug

Darius Paulk is on his way to being a household name as a singer, but his songwriting abilities are already well established. Not only has he written songs for artists like Tamela Mann and Marvin Sapp, but he is also the creative genius behind VaShawn Mitchell's smash hit "Nobody Greater," which was certified gold and named the #6 Hot Gospel Song of the decade by Billboard.
Now, the gifted artist is hoping to find success as a singer with his debut solo album Strong that was released on February 14. "Strong Name," the first single from the 11-track project, continues to perform well on radio, sitting in the top 15 on both the Billboard Gospel Airplay Chart and Mediabase Gospel Chart.
When describing his creative process for penning songs, Paulk confesses that he uses music as his anti-drug to counter the negative emotions he may be feeling at the moment.
"I try to write the opposite of where I am in my life sometimes. Writing is my anti-drug," Paulk told Ambo TV when explaining how he wrote "Nobody Greater." "I didn't feel like nobody was greater, so I wanted to write the opposite of that."
Paulk revealed that around the time he wrote his breakout hit, he experienced a series of setbacks including him and his roommate losing their jobs the same day, his car breaking down, and having no money. In the midst of these hardships, he composed the song and began performing it at local churches in Atlanta. Mitchell heard the powerful track while visiting a local Atlanta church and asked Paulk if he could record it. The rest, as they say, is history.
"I tell people this all the time…the most horrible situations can sometimes bring forth beautiful things and "Nobody Greater" is just a testimony to that."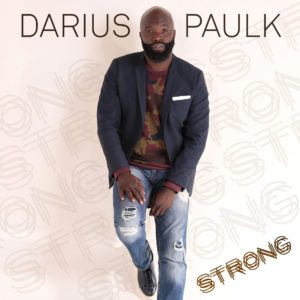 With his new album, Paulk kept his same creative formula of finding inspiration in the middle of negativity. That is why he decided to label the project "Strong," because it represented the opposite of how he felt during that season of his life.
"When we started putting the record together, I wasn't strong. I felt weak. I felt helpless. I felt like I should be further. I should be doing more. I haven't accomplished enough…I felt like I was behind and that…was a weakness," the worship leader shared. "So the records that we started writing and crafting to…go on the record they are all testimonies to the season that I was in."
Paulk's ultimate hope for the album is to offer listeners strength, faith, and empowerment.
"Every song is…crafted to infuse whoever listens to it with some level of strength they just didn't know they had. Some level of faith that they didn't know that they needed….I hope that everybody that listens to it…feels empowered."
(Photo: Ambo TV)